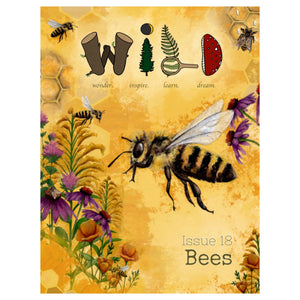 This issue of the WILD Mag, Bees, focuses on different apian species. You'll learn about bee anatomy, bee species around the world, beekeeping, honey, and much more!  Get into the WILD and explore bees with us! 
In this issue of the WILD Mag, Echinoderms, you'll learn about where echinoderms are found, what lives among them, and the fascinating adaptations these creatures possess to thrive in this incredible ecosystem! Get into the WILD and explore the world of echinoderms with us!

Click here to preview. 
With loads of information, activities, and journaling opportunities, our digital magazines cover multiple subjects and encourage you to get out into nature!
Explore:

Anatomy
Diagrams
Life cycles
Art Study
Vocabulary
Trivia
Species
Habitats
Biodiversity
Ecology
Quick Facts
Poetry
PLUS enjoy the invitations to create with crafts, recipes, experiments, and more!
Whether a budding biologist, aspiring artist, or nature enthusiast, WILD Mag offers a way for your student to enjoy nature. Embark on a journey that ignites curiosity and deepens the connection with the great outdoors.
Created by our WILD Mag team: Lauren from Chickie and Roo Homeschool, Stephanie from Stephanie Hathaway Designs, and Laura from Firefly Nature School.